Product Portfolio
Mitsubishi Electric ECODAN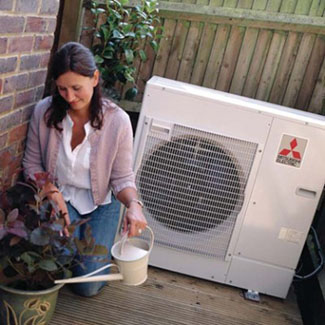 The range of Ecodan air source heat pumps from Mitsubishi Electric represents some of the most technically-advanced products within the industry, providing an excellent way of meeting the hot water and central heating demands of your property. Ecodan air source heat pumps will typically achieve annual efficiencies of up to 350% (COP of 3.5 - depending upon system design and ambient air temperature). That is to say for each 1kW of electricity consumed 3.5kW of heat is generated, meaning 2.5kW of "free" heat is recovered directly from the air. Designed specifically for the UK climate, these products are able to operate efficiently down to -15oC, making them suitable for use in the harshest of UK winters.
Air source heat pumps are much easier to install than their ground source heat pump equivalents as there is no complex and costly groundwork involved. They are suitable for a wide variety of buildings from flats to industrial premises and are an ideal choice for retrospective installations. They can provide central heating when used with traditional/ fan-assisted radiators or connected to underfloor heating systems for a greater level of efficiency. Every Ecodan air source heat pump installation gives the following benefits:
•
Microgeneration Certification Scheme (MCS) approved product (except 14 kW 3 phase model)
•
Easy to achieve Level 3 of the Code for Sustainable Homes for new-builds.
•
Extraordinarily high efficiency - typical annual efficiency of 350%
•
Safe - no gas supply, flues or ventilation required
•
Inverter-driven compressor modulates heat output meaning to need for large accumulator tanks
•
"Soft start" compressor technology means no nuisance electrical tripping
•
Integrated weather compensation control for optimum management of the heat pump and low running costs
•
Low maintenance and a design life of approximately 20 years
•
Class leading low noise - 45dBA at 1 metre (5kW model)
•
Reduced VAT to 5% for domestic applications
The Ecodan air source heat pump system (available as 5, 8.5 and 14 kW single phase and 14kW 3-phase units) consists of a self-contained module which is installed externally. With industry-leading low noise levels the external unit should rarely be audible from within the building, thereby not posing unnecessary nuisance. The advanced inverter-driven compressor technology means the Ecodan range provides a simple, cost-effective solution to your heating and hot water requirements for domestic or commercial use. Coupled with the Renewable Heat Incentive (RHI) scheme which offers an attractive rate of pay-back, it is easy to see why this form of heating is so affordable.
If you think you may be suited to an Ecodan air source heat pump and also help reduce your CO
2
footprint
contact us
to discuss your application or project and we'll be only too pleased to assist you.