Product Portfolio
Uponor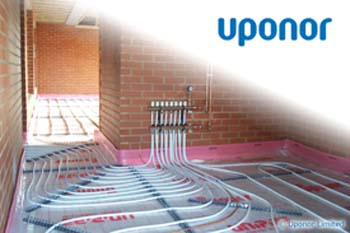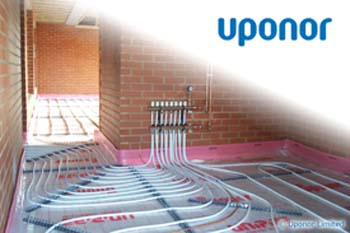 Uponor underfloor heating systems offer the widest range of products and most flexible heating design of any company in the industry. As the premier brand of underfloor heating systems, Uponor have Company roots stretching back 100s of years. Their products have major technological advantages over inferior competitors which deliver improved levels of comfort, whilst extending the lifespan of the whole heating system, including the boiler.
Radical Energy can provide fully-zoned heating system controls at your fingertips to give the user the ultimate in temperature regulation throughout the property. Whether you are looking for underfloor heating in a new-build or as a retrospective installation into an existing building, we can advise you which system is right for your project. We can also integrate any underfloor heating system with any of our environmentally-friendly heating technologies, including biomass and ground and air source heat pumps.
Radical Energy can guide you through the whole process, from the design conception to system commissioning and handover. We can provide accurate CAD drawings for any system as required to aid with both the installation and construction of the building. We can advise which floor construction and floor coverings are suitable to ensure each underfloor heating system performs at its optimum. The range of specialist techniques in which our engineers are trained means underfloor heating can be installed into suspended timber floors as well as solid-screed floor construction. "Weather Compensation" controls provide a means of further improving the efficiency of your underfloor heating system. This means the outside temperature is constantly monitored and the temperature of the underfloor heating loop is adjusted to deliver the correct heat demand of the building. In this respect energy is not wasted by delivering too much heat to the system and the building remains at a comfortable temperature all year round.
With a 25 year product guarantee and an expected lifetime in excess of 50 years, you can relax in the knowledge that your Uponor underfloor heating will run flawlessly for years to come. To discuss your specific underfloor heating application please contact us to find out how we can deliver comfortable heating to your home or workplace.