Product Portfolio
NIBE ASHP
Radical Energy is pleased to bring you the range of Fighter air source heat pumps from NIBE. Manufactured in Sweden, NIBE have an enviable reputation for engineering excellence and superb efficiency. Each of the products in the range is designed for the harsh climate of Scandinavian winters and is able to operate efficiently down to -20oC.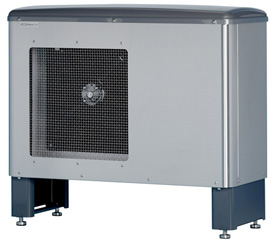 Each NIBE air source heat pump harvests renewable, "low grade" energy from the outdoor air upgrading this into useful heat to supply a home or business with hot water and heating. For every 1kW of electricity fed into the heat pump, you will typically receive 3.5kW of heating energy in return (depending on the system design and conditions).
The range is available in 6, 8 and 11kW single phase models and a 14kW 3 phase model. Radical Energy can design your installation as a stand-alone system or integrate it into an existing heating system. The advantage of integrating a NIBE heat pump into an existing system, such as a biomass, electric or fossil fuel boiler, is to allow the installation of a moderately-sized heat pump which will run efficiently throughout the year. Only during periods of peak winter demand for heat will the back-up system operate to "top up" the heat demand.
Each NIBE Fighter air source heat pump installation benefits from the following:
Microgeneration Certification Scheme (MCS) approved product
Qualifies for the Renewable Heat Incentive (RHI)
Extraordinarily high efficiency - typical annual efficiency of 350%
Safe - no gas supply, flue or ventilation required
Automatic 2-step capacity regulator for the fan achieves greater efficiency at low air temperatures than competitor products
"Soft start" compressor technology means no nuisance electrical tripping
Integrated weather compensation intelligent control for optimum management of the heat pump
External unit has stainless steel casing for a long service life
Low maintenance and a design life of approximately 20 years
Remarkably low sound level - 56dB at 1 metre (8kW model)
Reduced VAT to 5% for domestic applications
To discuss your requirements please contact us and we will gladly offer our advice.